Frequently Asked Questions
What do the genetic test results offer?
GeneLife offers you an insight into your genetic risk for various diseases and genetic information about your physical traits. By identifying which diseases you are at genetic risk of, you will have the knowledge of taking preventive action at an early stage. However, GeneLife does not offer health interpretation based on your genetic results. If you have already been diagnosed with a disease and would like to learn whether the genetic information should be used in your plans, please refer to a physician for medical advice.
Should I alternate my physician's advices with GeneLife results?
No. GeneLife test results are not diagnostic nor for medical use, and should not replace any current or previous diagnosis made by a physician. GeneLife test shall not be used for health or medical interpretation unless it is provided by a physician.
Will my genetic test results change over time? Do I need to take the test again
No. Your DNA does not change during your lifetime (except under extreme circumstances), thus you need to take the test only once.
I am pregnant now. Can I take the test?
Yes. You can take the test and it will not affect the result. Your DNA will be analyzed by spitting into a test tube, and your DNA results will not change due to your pregnancy. there is no harm to child.
Please inform us of GeneLife's privacy and data security policy
Operating under the METI genetic research and testing guidelines (formulated in 2007), and adhering to the Privacy Laws of Japan, your genetic information will be stored with top level security 24 hours/365 days at our onsite laboratory. To insure confidentiality, each customer's sample is also barcoded to insure that only you will have access to both your personal information and genetic information. GeneLife users will have access to their results for 1 year from the time the test results are viewable online. Customers can also write to us to request eradication of their genetic data from our database. (After your genetic data is erased from our servers.) GeneLife will not be able to offer future services.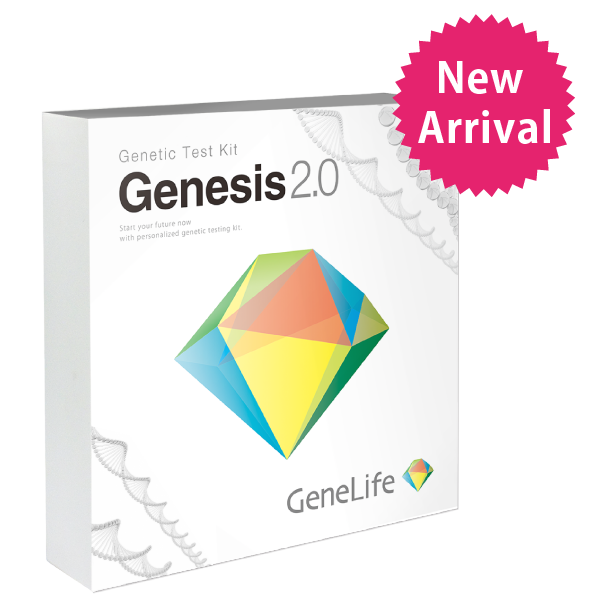 My DNA Testing Kit
GeneLife®Genesis 2.0
The most comprehensive genetic test kit
globally available now in Asia. (361 diseases/traits)
see details→
$470 SGD→$330 SGD

Order Now